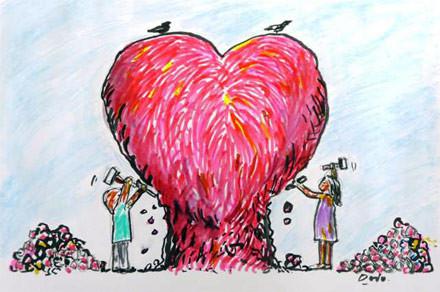 Diverts the intricacies of life in antics
That's the right sentence to describe Dodo Karundeng's work in the exhibition entitled "Cartoon Brain". The cartoonist who is also a photojournalist summarizes events in the form of cartoons, comics, and satirical paintings with jokes presented in the form of irony, sarcasm and parody.
Dodo uses intricate terms to represent events from his glasses. Intelligent people who are actually stupid, cleverness that is only camouflage, rulers of the country who are tricky, officials play magic, people are destitute, that is the reality that often makes him "tickled" to convey criticism, ranging from social, political, humanitarian, corruption, technology. , to sex even through his hobby of drawing. This exhibition is open from 19 to 28 February 2013 at Galeri Cipta III, Taman Ismail Marzuki.
Apart from satirical jokes about life, we go to death. Synonymous with loss, grief, death is not always sad. There … Read more